Amnon Free Press/Central Press Syndicate, USA. Read, Enjoy and Share the Latest US News Updates.
(CNSNews.com) – The Iranian regime's refusal to allow International Atomic Energy Agency (IAEA) inspectors regular access to monitoring equipment deployed at nuclear facilities has "seriously undermined" its verification and monitoring activities, the U.N. nuclear watchdog reported this week.
Those verification and monitoring activities are meant to enable the agency to provide the international community with assurances that Iran's nuclear program is a peaceful one.
The IAEA also reported that Iran's uranium-enrichment activities in violation of the Joint Comprehensive Plan of Action (JCPOA) have continued. Most troublingly, the amount of uranium it has enriched to 60 percent purity has quadrupled since May, from 2.4 kilograms to 10 kilograms, according to the agency's estimates.
The 2015 nuclear deal set limits on both the amount or uranium Iran is permitted to enrich, and the maximum level of purity. Enriching uranium to 60 percent purity far exceeds the 3.67 percent limit set by the deal.
Iran has also now produced 84.3 kilograms of 20 percent enriched uranium, also in violation of the JCPOA conditions.
And the regime's total stockpile of enriched uranium is now estimated by the IAEA to be 2,441.3 kilograms – more than ten times the 202.8-kilogram cap allowed under the deal.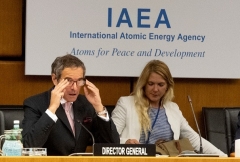 Before the JCPOA was concluded, Iran was enriching uranium to a maximum of 20 percent – the lower threshold of what is considered "high-enriched" uranium (HEU) under IAEA guidelines.
Weapons-grade HEU is around 90 percent, although according to the Institute for Science and International Security, while 90 percent HEU is preferable, "60% enriched uranium can be used directly in a nuclear explosive."
Depending on the design and specifications, a nuclear bomb requires roughly 10-30 kilograms of weapons-grade HEU.
The Institute for Science and International Security said Wednesday it was beginning to calculate "breakout scenarios" based on the latest figures from the IAEA, describing them as "ominous."
"The 60% and 20% are becoming much more meaningful for breakout," it said on Twitter. "Our preliminary breakout estimate is as short as approximately 5 weeks."
"Breakout" is the term used for the time needed to acquire the material needed to build one nuclear weapon, once the task gets the green light.
The grim assessments from the IAEA pose fresh challenges to the Biden administration's desire to return to the nuclear deal from which President Trump withdrew in 2018.
A return to the JCPOA would require the U.S. to lift the sanctions that were reimposed after Trump exited the agreement. Iran would have to return to compliance with the terms of the deal – which it began to contravene in response to Trump's action.
'No one can pressure Iran to halt its nuclear activities'
Six rounds of talks in Vienna since April sought to achieve those goals, but the process stalled ahead of Iran's presidential election in June. The regime's new foreign minister, Hossein Amirabdollahian, suggested recently it could take two to three months before the new administration was ready to move ahead.
Responding to a question about that at a press briefing with Secretary of State Antony Blinken on Wednesday, German Foreign Minister Heiko Maas said he told Amirabdollahian in a phone call last week that that was too long to wait.
"I asked him to make sure that they will return earlier to the negotiation table, and that would be a good opportunity to make clear what Iran's government's position with regard to the JCPOA is."
Blinken also expressed concern about delays, saying, "we are getting closer to the point at which a strict return to the compliance with the JCPOA does not reproduce the benefits that that agreement achieved."
"Because as time goes on, and as Iran continues to make advances in its nuclear program, including spinning more sophisticated centrifuges, enriching more material, learning more, there is a point at which it would be very difficult to regain all of the benefits of the JCPOA by returning to strict compliance with the JCPOA," he said.
"We're not at that point yet, but it's getting closer."
Blinken reiterated the administration's stance that the opportunity for a return to mutual – that is, U.S. and Iranian – compliance with the deal is "not indefinite."
In Vienna, Iran's representative to the IAEA, Kazem Gharibabadi, was dismissive of the agency's charges.
"Since the other parties to the JCPOA have not fulfilled their obligations in lifting sanctions and the U.S. policy of imposing illegal and unilateral sanctions on Tehran still goes on, no one can pressure Iran to halt its nuclear activities," Iran's Press TV quoted him as saying.
Gharibabadi also advised the IAEA to "maintain its independence, impartiality and professionalism."
Meanwhile Iran's U.S.-sanctioned president, Ebrahim Raisi, told European Council president Charles Michel in a phone conversation that Iran was interacting seriously and transparently with the IAEA.
"Naturally, if the International Atomic Energy Agency shows unconstructive behavior, it will not be logical to expect Iran to have a constructive response," Raisi's office quoted him as telling Michel. "Unconstructive actions naturally disrupt the negotiation process as well."
For any inquiries, contact Amnon Free Press (Amnon Jobi Jakony) by writing to editor [at] amnonfreepress.com. Discover a world of hyper-local news below.